Regional Wheelchair Centers
Serving More Through Wheelchair Hubs
Many disability centers and clinics in Africa are underfunded and lack the proper equipment and training to serve their disabled population. And often most of the wheelchairs donated to these clinics are of poor quality, not properly fitted, and inappropriate for the climate and terrain. Uhambo has experienced demand from organizations and governmental departments to establish effective wheelchair provision systems in various regions of Africa to reach more people with disabilities.
The purpose of a Regional Wheelchair Hub model is to extend safe, appropriate wheelchair provisions to those who need them most in underserved areas throughout Africa. In addition to providing mobility devices, the Hubs will offer training for caregivers and users, repair services, and clinical support to individuals and local disability centers and clinics, while providing a strong mentoring and training program to develop job skills for people with disabilities.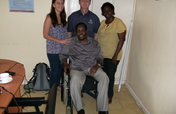 Uhambo's wheelchair centers serve wheelchair users, hospitals and medical centers. As a result, the centers would allow for wheelchair products and services to be distributed on a wider scale, create opportunities for people with disabilities and allow regional partners to generate income.
Uhambo Launching Wheelchair Hub in Kenya
Uhambo was awarded a Challenge Grant in 2013 to support the start up of a wheelchair center in Nairobi, Kenya. This is a pilot center and will act as a model for other locations — Uganda and Malawi are also interested in launching a center. The Kenya center will involve local partners including NONDO (Northern Nomadic Disabled Organization) and Nanaquips. It is projected that this center can be financially sustainable within 1 – 3 years.
The Regional Hubs will offer:
Access to high-quality, modular wheelchairs that are customizable to the unique mobility and posture support needs of each user
Clinical support and therapy that includes a customized chair for each individual, professional fitting, and ongoing therapeutic services to ensure proper fit and function over time
Training for parents, caregivers, teachers, and other healthcare professionals to help them support wheelchair users lead normal, productive lives
Local repair and maintenance for all wheelchairs regardless of origin
Job skill development for people with disabilities. To the greatest extent possible, Regional Hubs will employ people with disabilities to staff and manage the operations, from product assembly to business management.
Local community and government advocacy for people with disabilities and policies supportive of their inclusion in the workforce and in society
This model supports the WHO Guidelines on Appropriate Wheelchair Provision and the UN Convention on the Rights of People with Disabilities to provide local health services via a sustainable business model. The model will be rolled out in other rural regions of Africa.
Read more about our other high impact programs!